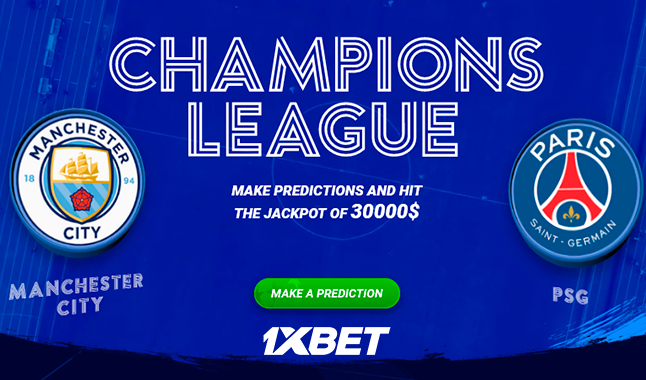 1xBet has a Jackpot of $30.000 waiting for you. Predict on the champions league and win the Super Prize.
The Champions League is one of the most watch Championships in the world, gathering the best European teams. To hype up this year Championship, 1xBet released a promotion for you to enjoy Champions League: Predict and win $30.000.

If you are new on 1xBet, create your account HERE and start the predictions!
How does this promotion works?
Every time your prediction is correct, you'll gain points. In each phase of the competition, your points will increase its value. The player with the most points wins!
How to win the Super Prize of $30.000 with the Champions League?
If you don't have an account on 1xBet, create one HERE;
Make your predictions on each stage of the Champions League;
Confirm your predictions with a bet of, at least, 99 INR;
The first place will receive a Jackpot of $30.000 (2nd place wins $20.000 and the 3rd place takes $10.000);
Even if you don't get to the top 3, there are still plenty of rewards!
How many point can you win in each stage?
Round of 16: 16 matches – 10 points each (Max. 160 points)
Quarter-finals: 8 matches – 15 points each (Max. 120 points)
Semi-Finals: 4 Matches – 20 points each (Max. 40 points)
Final: 1 Match – 40 points (Max. 40 points)
Some Terms and Conditions
Point are rewarded depending on each stage of the UEFA Champions League.
The maximum number of points a player can collect is 400.
This promotion is available for 1xBet users only.
Once a prediction is placed, it cannot be changed and they must be placed before the beginning of each match.
The rewards are separated by super prizes and runner up prizes. The super prizes are until the 6th place and the runner up prizes go until the 746th place.
1xBet FAQ's
What is the 1xBet Welcome bonus?
In your 1xBet REVIEW you can check the welcome bonus this bookmaker has to offer to every of its new users!
Is 1xBet legal in my country?
Yes, the Betting Academy only has bookmakers with lincenses to operate in your country.
How can I learn how to bet?
Here in the Betting Academy, you can take our
Betting and Trading Course
and learn the basics on how to start betting responsibily.