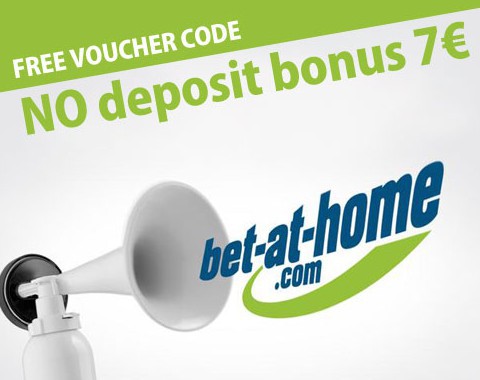 Open your bet-at-home account here in OnlineBettingAcademy and win more! You'll get a free voucher code of 7€ to try and bet on bet-at-home without having to deposit.
You'll also win +100 Academy points that will unlock you several exclusive teaching contents all over the Betting Academy website.
The bookmaker bet-at-home is offering free 7€ Voucher Code to all those new acounts opened through our links/banners. And you'll still be able to get the regular bonus when you make the first deposit on bet-at-home.
Those two bonus are comulative and are available to our members: you may use the 7€ Voucher code no deposit bonus and after that, when you make your first deposit you'll get the regular bonus of 50% of the first deposit up to 20£, 25€, 50€ or 100€ depending or what country are you from.
The third incentive is the 100 Academy Points that you'll receive upon your first real money deposit on bet-at-home.
No deposit bonus: Voucher code 7€ free!
1.

First clear cookies in your browser, then open your account in bet-at-home through and of our links/banners;

2.

Submit your bet-at-home account user number (number "betting account") here on "Win Academy Points" page;

3.

Then just wait at least 3 days for us to verify your account had been open here, and you'll receive Private Message here on Academy with your 7€ voucher code to redeem on bet-at-home whenever you want!
Costumers in these countries are excluded from this voucher promotion: Turkey, Israel, USA, France, Spain, Greece, Romania, Denmark, Hungary, Portugal, Mexico, Belgium, Russia and Bulgaria.
Available only to new bet-at-home accounts:
This bonus is limited to one 7€ voucher per person, family, household or computer. By suspicion of abuse via multiple registrations (fictitious accounts, game communities) or balance betting, bet-at-home.com reserves the right to remove the bonus and any resulting winnings.
Notice: the voucher codes are distributed directly by our Academy staff, therefore you should ask us any questions regarding this special offer (don't ask on bet-at-home costumer support). We send the 7€ voucher codes manually, so that may take 3 or more working days, please be patient.
The value of the voucher must be rolled over 3 times with minimum odds of 1.50 (for single as well as combi bets with final odd higher than 1.50).
Tutorial where to find the bet-at-home account user number (nº "betting account") and how to redeem voucher codes on bet-at-home:
The value of this first deposit bonus must be rolled over 5 times with minimum odds of 1.70 (for single as well as all combi bets) within 90 days prior to making a withdrawal.
This is a shor summary information of the first deposit bonus, so you must read the full terms and conditions on bet-at-home website.