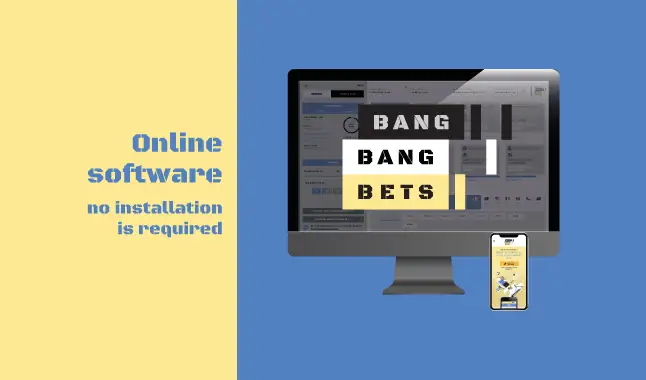 No installation required, only Internet access and a Betfair account.
Bang Bang Bets is your new ally to trade using only a web browser, such as Google Chrome.
Now it is possible to have a ladder view to trade, totally free, without any associated monthly plans. How? Using Bang Bang Bets anywhere on your MacOS, Linux, Windows, iOS, Android or any operating system, just with a web browser, such as Google Chrome, Apple Safari or Mozilla Firefox.
The design of BangBangBets is intuitive and adapts to any screen size, from mobile phones, with one ladder, to an ultra HD 4K display, with six ladders in a single interface.
The updates received by Betfair, through the ESA-API - "streaming api" - in a simple Internet browser, are almost instantaneous. At that moment you will understand the great advantage of BangBangBets using websockets technology for real-time data and, therefore, you will be one step ahead of the competition.
In this online trading software a global cashout option is available to close all your positions or, with a simple click, you can eliminate bets that have not yet been matched: these characteristics and many others in a simple web page: www.bangbangbets.com.
A BETA version is available for 90 days, which means that you can try BangBangBets with full features for free. Do not forget that the ladder view is accessible in the "bang bang bets" version, that is, you will not pay to have this view that is not available on the Betfair site.
The login of the BangBangBets application is done via Betfair.com in an integrated manner. You simply click on "login for free with Betfair" at www.bangbangbets.com and you will access a Betfair login page, where you will have to enter your username and password.
Visit: www.bangbangbets.com
BangBangBets highlights:
The latest technology software, without the need for installation, available in any web browser;
Multi-platform, that is, it works on MacOS, Linux, Windows, iOS and Android;
Streaming data in real time, via websockets technology;
Search for markets presented in tree form of the type: sport> competition> event> market;
Event search bar that facilitates the search for markets (competition, name of the event or team);
Intuitive Home Markets area, organised by outstanding markets, in the following order: soccer, horse racing, live markets, tennis and basketball;
The "Market Page" header is the same in the grid view and in the ladder view, in addition to the "Options" button, which is visible only in the ladder view;
Grid view interface easy to analyse: suitable for markets with many selections, for a general perspective;
Grid view with extra information on each horse (card form);
Ladder view (not available on the Betfair site), suitable for an intuitive overview of the odds ladder;
Customisable ladder view: possibility of adding ladders, depending on the size of the screen;
Several markets in different tabs of your web browser;
Cashout area to close open positions in all markets (Global Cashout option).
"All your unmatched bets" area, to quickly see all your unmatched bets (you can eventually cancel everything with a single click);
Automatic bets: keep in play, fill or kill, tick offset, stop loss;
www.bangbangbets.com and add the icon to the home screen.
Application for mobile devices: just go to
BangBangBets is online trading software approved and certified by Betfair (proven and approved security):
https://apps.betfair.com/trading/bangbangbets/